Loading custom HTML and bootstrap within a Suitelet Form
I want to share this nice hack I created to allow to run custom HTML within a Netsuite form. I am using it to load bootstrap and sweet alert, but it can be used for a lot more! In this example I am loading a basic bootstrap template, it can be tweaked to send POST messages to the suitelet and load more jQuery plugins and scripts.
The end result: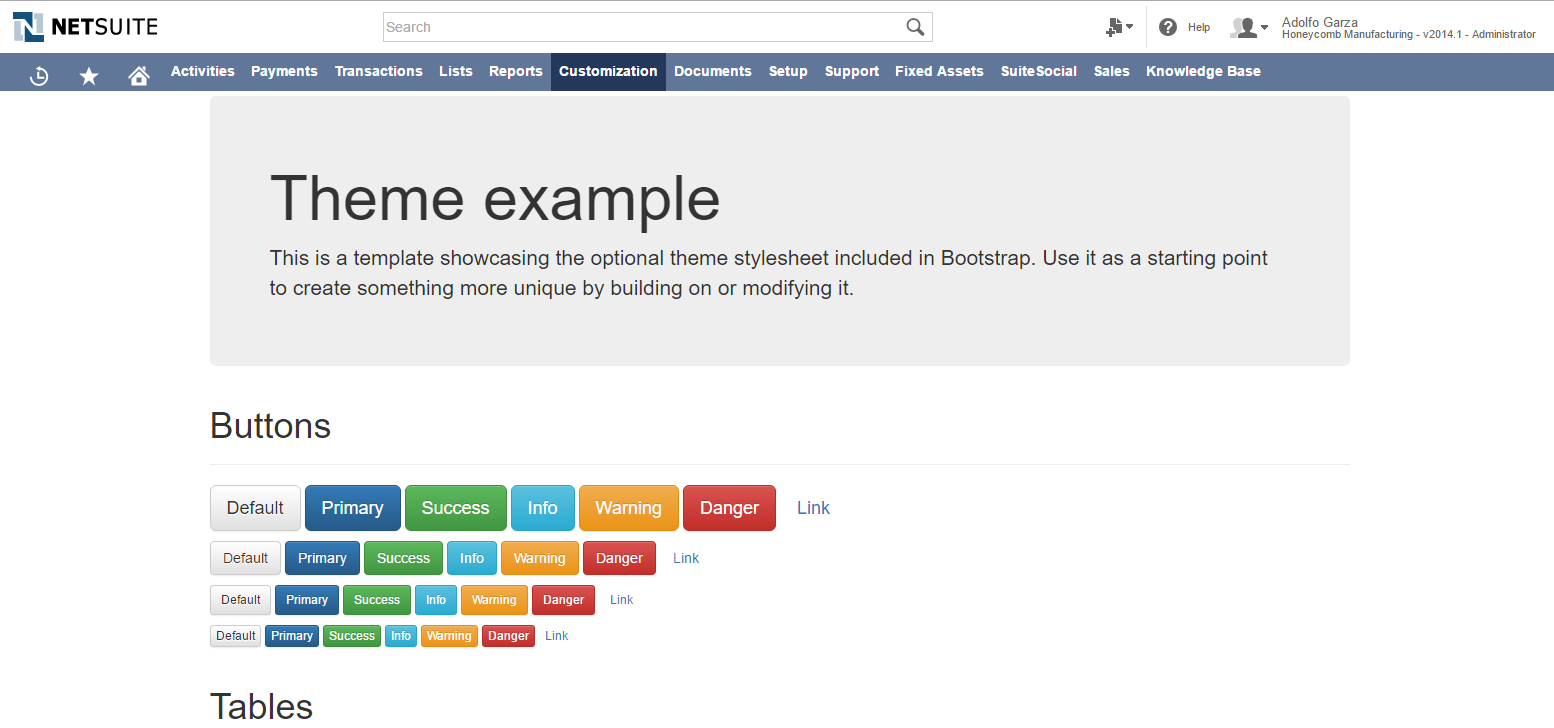 Note: This is a hack, so beware.
Leave a comment if you liked it or think it can be improved!
Suitescript 2.x version
1

2

3

4

5

6

7

8

9

10

11

12

13

14

15

16

17

18

19

20

21

22

23

24

25

26

27

28

29

30

31

32

33

34

35

36

37

38

39

40

41

42

43

44

45

46

47

48

49

50

51

52

53

54

55

56

57

58

59

60

61

62

63

64

65

66

67

68

69

70

71

72

73

74

75

76

77

78

79

80

81

82

83

84

85

86

87

88

89

90

91

92

93

94

95

96

97

98

99

100

101

102

103

104

105

106

107

108

109

110

111

112

113

114

115

116

117

118

119

120

121

122

123

124

125

126

127

128

129

130

131

132

133

134

135

136

137

138

139

140

141

142

143

144

145

146

147

148

149

150

151

152

153

154

155

156

157

158

159

160

161

162

163

164

165

166

167

168

169

170

171

172

173

174

175

176

177

178

179

180

181

* Suitelet hack to load a custom html page within a Netsuite Form. Created by Adolfo Garza (borncorp)

var

ENCODEMODULE

,

RUNTIMEMODULE

,

UIMODULE

,

URLMODULE

,

DEPLOYMENT_URL

;

//I like loading my modules as globals so I can access them whenever I want

define

(

[

"N/encode"

,

"N/runtime"

,

'N/ui/serverWidget'

,

'N/url'

]

,

runSuitelet

)

;

//********************** MAIN FUNCTION **********************

function

runSuitelet

(

encode

,

runtime

,

ui

,

url

)

{

returnObj

.

onRequest

=

execute

;

function

execute

(

context

)

{

DEPLOYMENT_URL

=

getDeploymentURL

(

)

;

if

(

context

.

request

.

method

==

'GET'

)

{

var

form

=

getInjectableForm

(

)

;

context

.

response

.

writePage

(

form

)

;

log

.

error

(

"ERROR"

,

e

.

toString

(

)

)

;

context

.

response

.

write

(

e

.

toString

(

)

)

;

function

getInjectableForm

(

)

{

//*********** Create Form ***********

var

form

=

UIMODULE

.

createForm

(

{

var

bodyAreaField

=

form

.

addField

(

{

id

:

'custpage_bodyareafield'

,

type

:

UIMODULE

.

FieldType

.

INLINEHTML

,

label

:

'Body Area Field'

//*********** Prepare HTML and scripts to Inject ***********

clientCode

=

clientCode

.

replace

(

'$PAGEBODY$'

,

body

)

.

replace

(

'$DEPLOYMENT_URL$'

,

DEPLOYMENT_URL

)

;

var

base64ClientCode

=

toBase64

(

clientCode

)

;

var

scriptToInject

=

'console.log(\'Added bottom script element\');'

;

scriptToInject

+=

"eval( atob(\'"

+

base64ClientCode

+

"\') );"

;

//*********** Injecting HTML and scripts into an the Body Area Field ***********

bodyAreaField

.

defaultValue

=

'

<script>

var

script

=

document

.

createElement

(

\

'

script

\

'

)

;

script

.

setAttribute

(

\

'

type

\

'

,

\

'

text

/javascript\');script.appendChild(document.createTextNode(\"' + scriptToInject + '\" ));document.body.appendChild(script);</s

cript

>

'

;

* Gets HTML that will be injected into the Suitelet. Use an HTML minifier tool to achieve this one string output.

* @returns {string} HTML String

return

"<div style='width:100%' class='container-fluid'> "

+

" <div class='container theme-showcase' role='main'> <div class='jumbotron'> <h1>Theme example</h1> <p>This is a template showcasing the optional theme stylesheet included in Bootstrap. Use it as a starting point to create something more unique by building on or modifying it.</p></div><div class='page-header'> <h1>Buttons</h1> </div><p> <button type='button' class='btn btn-lg btn-default'>Default</button> <button type='button' class='btn btn-lg btn-primary'>Primary</button> <button type='button' class='btn btn-lg btn-success'>Success</button> <button type='button' class='btn btn-lg btn-info'>Info</button> <button type='button' class='btn btn-lg btn-warning'>Warning</button> <button type='button' class='btn btn-lg btn-danger'>Danger</button> <button type='button' class='btn btn-lg btn-link'>Link</button> </p><p> <button type='button' class='btn btn-default'>Default</button> <button type='button' class='btn btn-primary'>Primary</button> <button type='button' class='btn btn-success'>Success</button> <button type='button' class='btn btn-info'>Info</button> <button type='button' class='btn btn-warning'>Warning</button> <button type='button' class='btn btn-danger'>Danger</button> <button type='button' class='btn btn-link'>Link</button> </p><p> <button type='button' class='btn btn-sm btn-default'>Default</button> <button type='button' class='btn btn-sm btn-primary'>Primary</button> <button type='button' class='btn btn-sm btn-success'>Success</button> <button type='button' class='btn btn-sm btn-info'>Info</button> <button type='button' class='btn btn-sm btn-warning'>Warning</button> <button type='button' class='btn btn-sm btn-danger'>Danger</button> <button type='button' class='btn btn-sm btn-link'>Link</button> </p><p> <button type='button' class='btn btn-xs btn-default'>Default</button> <button type='button' class='btn btn-xs btn-primary'>Primary</button> <button type='button' class='btn btn-xs btn-success'>Success</button> <button type='button' class='btn btn-xs btn-info'>Info</button> <button type='button' class='btn btn-xs btn-warning'>Warning</button> <button type='button' class='btn btn-xs btn-danger'>Danger</button> <button type='button' class='btn btn-xs btn-link'>Link</button> </p><div class='page-header'> <h1>Tables</h1> </div><div class='row'> <div class='col-md-6'> <table class='table'> <thead> <tr> <th>#</th> <th>First Name</th> <th>Last Name</th> <th>Username</th> </tr></thead> <tbody> <tr> <td>1</td><td>Mark</td><td>Otto</td><td>@mdo</td></tr><tr> <td>2</td><td>Jacob</td><td>Thornton</td><td>@fat</td></tr><tr> <td>3</td><td>Larry</td><td>the Bird</td><td>@twitter</td></tr></tbody> </table> </div><div class='col-md-6'> <table class='table table-striped'> <thead> <tr> <th>#</th> <th>First Name</th> <th>Last Name</th> <th>Username</th> </tr></thead> <tbody> <tr> <td>1</td><td>Mark</td><td>Otto</td><td>@mdo</td></tr><tr> <td>2</td><td>Jacob</td><td>Thornton</td><td>@fat</td></tr><tr> <td>3</td><td>Larry</td><td>the Bird</td><td>@twitter</td></tr></tbody> </table> </div></div><div class='row'> <div class='col-md-6'> <table class='table table-bordered'> <thead> <tr> <th>#</th> <th>First Name</th> <th>Last Name</th> <th>Username</th> </tr></thead> <tbody> <tr> <td rowspan='2'>1</td><td>Mark</td><td>Otto</td><td>@mdo</td></tr><tr> <td>Mark</td><td>Otto</td><td>@TwBootstrap</td></tr><tr> <td>2</td><td>Jacob</td><td>Thornton</td><td>@fat</td></tr><tr> <td>3</td><td colspan='2'>Larry the Bird</td><td>@twitter</td></tr></tbody> </table> </div><div class='col-md-6'> <table class='table table-condensed'> <thead> <tr> <th>#</th> <th>First Name</th> <th>Last Name</th> <th>Username</th> </tr></thead> <tbody> <tr> <td>1</td><td>Mark</td><td>Otto</td><td>@mdo</td></tr><tr> <td>2</td><td>Jacob</td><td>Thornton</td><td>@fat</td></tr><tr> <td>3</td><td colspan='2'>Larry the Bird</td><td>@twitter</td></tr></tbody> </table> </div></div><div class='page-header'> <h1>Thumbnails</h1> </div><img data-src='holder.js/200x200' class='img-thumbnail' alt='A generic square placeholder image with a white border around it, making it resemble a photograph taken with an old instant camera'> <div class='page-header'> <h1>Labels</h1> </div><h1> <span class='label label-default'>Default</span> <span class='label label-primary'>Primary</span> <span class='label label-success'>Success</span> <span class='label label-info'>Info</span> <span class='label label-warning'>Warning</span> <span class='label label-danger'>Danger</span> </h1> <h2> <span class='label label-default'>Default</span> <span class='label label-primary'>Primary</span> <span class='label label-success'>Success</span> <span class='label label-info'>Info</span> <span class='label label-warning'>Warning</span> <span class='label label-danger'>Danger</span> </h2> <h3> <span class='label label-default'>Default</span> <span class='label label-primary'>Primary</span> <span class='label label-success'>Success</span> <span class='label label-info'>Info</span> <span class='label label-warning'>Warning</span> <span class='label label-danger'>Danger</span> </h3> <h4> <span class='label label-default'>Default</span> <span class='label label-primary'>Primary</span> <span class='label label-success'>Success</span> <span class='label label-info'>Info</span> <span class='label label-warning'>Warning</span> <span class='label label-danger'>Danger</span> </h4> <h5> <span class='label label-default'>Default</span> <span class='label label-primary'>Primary</span> <span class='label label-success'>Success</span> <span class='label label-info'>Info</span> <span class='label label-warning'>Warning</span> <span class='label label-danger'>Danger</span> </h5> <h6> <span class='label label-default'>Default</span> <span class='label label-primary'>Primary</span> <span class='label label-success'>Success</span> <span class='label label-info'>Info</span> <span class='label label-warning'>Warning</span> <span class='label label-danger'>Danger</span> </h6> <p> <span class='label label-default'>Default</span> <span class='label label-primary'>Primary</span> <span class='label label-success'>Success</span> <span class='label label-info'>Info</span> <span class='label label-warning'>Warning</span> <span class='label label-danger'>Danger</span> </p><div class='page-header'> <h1>Badges</h1> </div><p> <a href='#'>Inbox <span class='badge'>42</span></a> </p><ul class='nav nav-pills' role='tablist'> <li role='presentation' class='active'><a href='#'>Home <span class='badge'>42</span></a></li><li role='presentation'><a href='#'>Profile</a></li><li role='presentation'><a href='#'>Messages <span class='badge'>3</span></a></li></ul> <div class='page-header'> <h1>Dropdown menus</h1> </div><div class='dropdown theme-dropdown clearfix'> <a id='dropdownMenu1' href='#' class='sr-only dropdown-toggle' data-toggle='dropdown' role='button' aria-haspopup='true' aria-expanded='false'>Dropdown <span class='caret'></span></a> <ul class='dropdown-menu' aria-labelledby='dropdownMenu1'> <li class='active'><a href='#'>Action</a></li><li><a href='#'>Another action</a></li><li><a href='#'>Something else here</a></li><li role='separator' class='divider'></li><li><a href='#'>Separated link</a></li></ul> </div><div class='page-header'> <h1>Navs</h1> </div><ul class='nav nav-tabs' role='tablist'> <li role='presentation' class='active'><a href='#'>Home</a></li><li role='presentation'><a href='#'>Profile</a></li><li role='presentation'><a href='#'>Messages</a></li></ul> <ul class='nav nav-pills' role='tablist'> <li role='presentation' class='active'><a href='#'>Home</a></li><li role='presentation'><a href='#'>Profile</a></li><li role='presentation'><a href='#'>Messages</a></li></ul> <div class='page-header'> <h1>Navbars</h1> </div><nav class='navbar navbar-default'> <div class='container'> <div class='navbar-header'> <button type='button' class='navbar-toggle collapsed' data-toggle='collapse' data-target='.navbar-collapse'> <span class='sr-only'>Toggle navigation</span> <span class='icon-bar'></span> <span class='icon-bar'></span> <span class='icon-bar'></span> </button> <a class='navbar-brand' href='#'>Project name</a> </div><div class='navbar-collapse collapse'> <ul class='nav navbar-nav'> <li class='active'><a href='#'>Home</a></li><li><a href='#about'>About</a></li><li><a href='#contact'>Contact</a></li><li class='dropdown'> <a href='#' class='dropdown-toggle' data-toggle='dropdown' role='button' aria-haspopup='true' aria-expanded='false'>Dropdown <span class='caret'></span></a> <ul class='dropdown-menu'> <li><a href='#'>Action</a></li><li><a href='#'>Another action</a></li><li><a href='#'>Something else here</a></li><li role='separator' class='divider'></li><li class='dropdown-header'>Nav header</li><li><a href='#'>Separated link</a></li><li><a href='#'>One more separated link</a></li></ul> </li></ul> </div></div></nav> <nav class='navbar navbar-inverse'> <div class='container'> <div class='navbar-header'> <button type='button' class='navbar-toggle collapsed' data-toggle='collapse' data-target='.navbar-collapse'> <span class='sr-only'>Toggle navigation</span> <span class='icon-bar'></span> <span class='icon-bar'></span> <span class='icon-bar'></span> </button> <a class='navbar-brand' href='#'>Project name</a> </div><div class='navbar-collapse collapse'> <ul class='nav navbar-nav'> <li class='active'><a href='#'>Home</a></li><li><a href='#about'>About</a></li><li><a href='#contact'>Contact</a></li><li class='dropdown'> <a href='#' class='dropdown-toggle' data-toggle='dropdown' role='button' aria-haspopup='true' aria-expanded='false'>Dropdown <span class='caret'></span></a> <ul class='dropdown-menu'> <li><a href='#'>Action</a></li><li><a href='#'>Another action</a></li><li><a href='#'>Something else here</a></li><li role='separator' class='divider'></li><li class='dropdown-header'>Nav header</li><li><a href='#'>Separated link</a></li><li><a href='#'>One more separated link</a></li></ul> </li></ul> </div></div></nav> <div class='page-header'> <h1>Alerts</h1> </div><div class='alert alert-success' role='alert'> <strong>Well done!</strong> You successfully read this important alert message. </div><div class='alert alert-info' role='alert'> <strong>Heads up!</strong> This alert needs your attention, but it's not super important. </div><div class='alert alert-warning' role='alert'> <strong>Warning!</strong> Best check yo self, you're not looking too good. </div><div class='alert alert-danger' role='alert'> <strong>Oh snap!</strong> Change a few things up and try submitting again. </div><div class='page-header'> <h1>Progress bars</h1> </div><div class='progress'> <div class='progress-bar' role='progressbar' aria-valuenow='60' aria-valuemin='0' aria-valuemax='100' style='width: 60%;'><span class='sr-only'>60% Complete</span></div></div><div class='progress'> <div class='progress-bar progress-bar-success' role='progressbar' aria-valuenow='40' aria-valuemin='0' aria-valuemax='100' style='width: 40%'><span class='sr-only'>40% Complete (success)</span></div></div><div class='progress'> <div class='progress-bar progress-bar-info' role='progressbar' aria-valuenow='20' aria-valuemin='0' aria-valuemax='100' style='width: 20%'><span class='sr-only'>20% Complete</span></div></div><div class='progress'> <div class='progress-bar progress-bar-warning' role='progressbar' aria-valuenow='60' aria-valuemin='0' aria-valuemax='100' style='width: 60%'><span class='sr-only'>60% Complete (warning)</span></div></div><div class='progress'> <div class='progress-bar progress-bar-danger' role='progressbar' aria-valuenow='80' aria-valuemin='0' aria-valuemax='100' style='width: 80%'><span class='sr-only'>80% Complete (danger)</span></div></div><div class='progress'> <div class='progress-bar progress-bar-striped' role='progressbar' aria-valuenow='60' aria-valuemin='0' aria-valuemax='100' style='width: 60%'><span class='sr-only'>60% Complete</span></div></div><div class='progress'> <div class='progress-bar progress-bar-success' style='width: 35%'><span class='sr-only'>35% Complete (success)</span></div><div class='progress-bar progress-bar-warning' style='width: 20%'><span class='sr-only'>20% Complete (warning)</span></div><div class='progress-bar progress-bar-danger' style='width: 10%'><span class='sr-only'>10% Complete (danger)</span></div></div><div class='page-header'> <h1>List groups</h1> </div><div class='row'> <div class='col-sm-4'> <ul class='list-group'> <li class='list-group-item'>Cras justo odio</li><li class='list-group-item'>Dapibus ac facilisis in</li><li class='list-group-item'>Morbi leo risus</li><li class='list-group-item'>Porta ac consectetur ac</li><li class='list-group-item'>Vestibulum at eros</li></ul> </div><div class='col-sm-4'> <div class='list-group'> <a href='#' class='list-group-item active'> Cras justo odio </a> <a href='#' class='list-group-item'>Dapibus ac facilisis in</a> <a href='#' class='list-group-item'>Morbi leo risus</a> <a href='#' class='list-group-item'>Porta ac consectetur ac</a> <a href='#' class='list-group-item'>Vestibulum at eros</a> </div></div><div class='col-sm-4'> <div class='list-group'> <a href='#' class='list-group-item active'> <h4 class='list-group-item-heading'>List group item heading</h4> <p class='list-group-item-text'>Donec id elit non mi porta gravida at eget metus. Maecenas sed diam eget risus varius blandit.</p></a> <a href='#' class='list-group-item'> <h4 class='list-group-item-heading'>List group item heading</h4> <p class='list-group-item-text'>Donec id elit non mi porta gravida at eget metus. Maecenas sed diam eget risus varius blandit.</p></a> <a href='#' class='list-group-item'> <h4 class='list-group-item-heading'>List group item heading</h4> <p class='list-group-item-text'>Donec id elit non mi porta gravida at eget metus. Maecenas sed diam eget risus varius blandit.</p></a> </div></div></div><div class='page-header'> <h1>Panels</h1> </div><div class='row'> <div class='col-sm-4'> <div class='panel panel-default'> <div class='panel-heading'> <h3 class='panel-title'>Panel title</h3> </div><div class='panel-body'> Panel content </div></div><div class='panel panel-primary'> <div class='panel-heading'> <h3 class='panel-title'>Panel title</h3> </div><div class='panel-body'> Panel content </div></div></div><div class='col-sm-4'> <div class='panel panel-success'> <div class='panel-heading'> <h3 class='panel-title'>Panel title</h3> </div><div class='panel-body'> Panel content </div></div><div class='panel panel-info'> <div class='panel-heading'> <h3 class='panel-title'>Panel title</h3> </div><div class='panel-body'> Panel content </div></div></div><div class='col-sm-4'> <div class='panel panel-warning'> <div class='panel-heading'> <h3 class='panel-title'>Panel title</h3> </div><div class='panel-body'> Panel content </div></div><div class='panel panel-danger'> <div class='panel-heading'> <h3 class='panel-title'>Panel title</h3> </div><div class='panel-body'> Panel content </div></div></div></div><div class='page-header'> <h1>Wells</h1> </div><div class='well'> <p>Lorem ipsum dolor sit amet, consectetur adipiscing elit. Maecenas sed diam eget risus varius blandit sit amet non magna. Lorem ipsum dolor sit amet, consectetur adipiscing elit. Praesent commodo cursus magna, vel scelerisque nisl consectetur et. Cras mattis consectetur purus sit amet fermentum. Duis mollis, est non commodo luctus, nisi erat porttitor ligula, eget lacinia odio sem nec elit. Aenean lacinia bibendum nulla sed consectetur.</p></div><div class='page-header'> <h1>Carousel</h1> </div><div id='carousel-example-generic' class='carousel slide' data-ride='carousel'> <ol class='carousel-indicators'> <li data-target='#carousel-example-generic' data-slide-to='0' class='active'></li><li data-target='#carousel-example-generic' data-slide-to='1'></li><li data-target='#carousel-example-generic' data-slide-to='2'></li></ol> <div class='carousel-inner' role='listbox'> <div class='item active'> <img data-src='holder.js/1140x500/auto/#777:#555/text:First slide' alt='First slide'> </div><div class='item'> <img data-src='holder.js/1140x500/auto/#666:#444/text:Second slide' alt='Second slide'> </div><div class='item'> <img data-src='holder.js/1140x500/auto/#555:#333/text:Third slide' alt='Third slide'> </div></div><a class='left carousel-control' href='#carousel-example-generic' role='button' data-slide='prev'> <span class='glyphicon glyphicon-chevron-left' aria-hidden='true'></span> <span class='sr-only'>Previous</span> </a> <a class='right carousel-control' href='#carousel-example-generic' role='button' data-slide='next'> <span class='glyphicon glyphicon-chevron-right' aria-hidden='true'></span> <span class='sr-only'>Next</span> </a> </div></div>"

var

clientCode

=

'run(); '

+

function

run

(

)

{

console

.

log

(

'Running client code'

)

;

//*********** GLOBAL VARIABLES ***********

DEPLOYMENT_URL

=

'$DEPLOYMENT_URL$'

;

THISURL

=

$

(

location

)

.

attr

(

'href'

)

;

//*********** After DOM loads run this: ***********

injectHeaderScripts

(

)

;

//Loads Libraries that will be placed on header (Optional)

$

(

window

)

.

bind

(

'load'

,

injectHTML

)

;

//Replaces Suitelet's body with custom HTML once the window has fully loaded(Required)

waitForLibraries

(

[

'swal'

]

,

runCustomFunctions

)

;

//Runs additional logic after required libraries have loaded (Optional)

//*********** HELPER FUNCTIONS ***********

* Loads Libraries that will be placed on header (Optional)

function

injectHeaderScripts

(

)

{

console

.

log

(

'loadHeaderLibraries START'

)

;

loadjscssfile

(

"https://code.jquery.com/jquery-1.11.3.min.js"

)

;

loadjscssfile

(

"https://cdnjs.cloudflare.com/ajax/libs/sweetalert/1.1.0/sweetalert.min.js"

)

;

loadjscssfile

(

"https://cdnjs.cloudflare.com/ajax/libs/sweetalert/1.1.0/sweetalert.min.css"

)

;

loadjscssfile

(

"https://maxcdn.bootstrapcdn.com/bootstrap/3.3.6/css/bootstrap.min.css"

)

;

loadjscssfile

(

"https://maxcdn.bootstrapcdn.com/bootstrap/3.3.6/css/bootstrap-theme.min.css"

)

;

loadjscssfile

(

"https://maxcdn.bootstrapcdn.com/bootstrap/3.3.6/js/bootstrap.min.js"

)

;

console

.

log

(

'loadHeaderLibraries END'

)

;

//*********** HELPER FUNCTION ***********

function

loadjscssfile

(

filename

)

{

var

filetype

=

filename

.

substr

(

filename

.

lastIndexOf

(

'.'

)

+

1

)

.

toLowerCase

(

)

;

if

(

filetype

==

"js"

)

{

//if filename is a external JavaScript file

var

fileref

=

document

.

createElement

(

'script'

)

fileref

.

setAttribute

(

"type"

,

"text/javascript"

)

fileref

.

setAttribute

(

"src"

,

filename

)

}

else

if

(

filetype

==

"css"

)

{

//if filename is an external CSS file

var

fileref

=

document

.

createElement

(

"link"

)

fileref

.

setAttribute

(

"rel"

,

"stylesheet"

)

fileref

.

setAttribute

(

"type"

,

"text/css"

)

fileref

.

setAttribute

(

"href"

,

filename

)

if

(

typeof

fileref

!=

"undefined"

)

{

document

.

getElementsByTagName

(

"head"

)

[

0

]

.

appendChild

(

fileref

)

console

.

log

(

filename

+

' plugin loaded'

)

;

function

runCustomFunctions

(

)

{

console

.

log

(

'clientFunctions START'

)

;

var

DEPLOYMENT_URL

=

'$DEPLOYMENT_URL$'

;

swal

(

'Good job '

+

nlapiGetContext

(

)

.

name

.

split

(

' '

)

.

shift

(

)

,

'This code is loaded in the footer. Thanks for trying my script!'

,

"success"

)

;

function

waitForLibraries

(

libraries

,

functionToRun

)

{

for

(

var

i

in

libraries

)

{

var

library

=

libraries

[

i

]

;

if

(

eval

(

'typeof '

+

library

)

!=

'undefined'

)

{

window

.

setTimeout

(

function

(

)

{

if

(

loadedLibraries

!=

libraries

.

length

)

{

waitForLibraries

(

libraries

,

functionToRun

)

;

console

.

log

(

library

+

' loaded'

)

;

var

html

=

' $PAGEBODY$ '

;

//This string will be replaced by the Suitelet

jQuery

(

"#main_form"

)

[

0

]

.

outerHTML

=

html

;

* Gets deployment URL. Useful for sending POST requests to this same suitelet.

* @returns {string} Deployment URL

function

getDeploymentURL

(

)

{

return

URLMODULE

.

resolveScript

(

{

scriptId

:

RUNTIMEMODULE

.

getCurrentScript

(

)

.

id

,

deploymentId

:

RUNTIMEMODULE

.

getCurrentScript

(

)

.

deploymentId

,

returnExternalUrl

:

false

,

function

toBase64

(

stringInput

)

{

return

ENCODEMODULE

.

convert

(

{

inputEncoding

:

ENCODEMODULE

.

Encoding

.

UTF_8

,

outputEncoding

:

ENCODEMODULE

.

Encoding

.

BASE

_

64
Suitescript 2.1 version
1

2

3

4

5

6

7

8

9

10

11

12

13

14

15

16

17

18

19

20

21

22

23

24

25

26

27

28

29

30

31

32

33

34

35

36

37

38

39

40

41

42

43

44

45

46

47

48

49

50

51

52

53

54

55

56

57

58

59

60

61

62

63

64

65

66

67

68

69

70

71

72

73

74

75

76

77

78

79

80

81

82

83

84

85

86

87

88

89

90

91

92

93

94

95

96

97

98

99

100

101

102

103

104

105

106

107

108

109

110

111

112

113

114

115

116

117

118

119

120

121

122

123

124

125

126

127

128

129

130

131

132

133

134

135

136

137

138

139

140

141

142

143

144

145

146

147

148

149

150

151

152

153

154

155

156

157

158

159

160

161

162

163

164

165

166

167

168

169

170

171

172

173

174

175

176

177

178

179

180

181

* Suitelet hack to load a custom html page within a Netsuite Form. Created by Adolfo Garza (borncorp)

var

ENCODEMODULE

,

RUNTIMEMODULE

,

UIMODULE

,

URLMODULE

,

DEPLOYMENT_URL

;

//I like loading my modules as globals so I can access them whenever I want

define

(

[

"N/encode"

,

"N/runtime"

,

'N/ui/serverWidget'

,

'N/url'

]

,

runSuitelet

)

;

//********************** MAIN FUNCTION **********************

function

runSuitelet

(

encode

,

runtime

,

ui

,

url

)

{

returnObj

.

onRequest

=

execute

;

function

execute

(

context

)

{

DEPLOYMENT_URL

=

getDeploymentURL

(

)

;

if

(

context

.

request

.

method

==

'GET'

)

{

var

form

=

getInjectableForm

(

)

;

context

.

response

.

writePage

(

form

)

;

log

.

error

(

"ERROR"

,

e

.

toString

(

)

)

;

context

.

response

.

write

(

e

.

toString

(

)

)

;

function

getInjectableForm

(

)

{

//*********** Create Form ***********

var

form

=

UIMODULE

.

createForm

(

{

var

bodyAreaField

=

form

.

addField

(

{

id

:

'custpage_bodyareafield'

,

type

:

UIMODULE

.

FieldType

.

INLINEHTML

,

label

:

'Body Area Field'

//*********** Prepare HTML and scripts to Inject ***********

clientCode

=

clientCode

.

replace

(

'$PAGEBODY$'

,

body

)

.

replace

(

'$DEPLOYMENT_URL$'

,

DEPLOYMENT_URL

)

;

var

base64ClientCode

=

toBase64

(

clientCode

)

;

var

scriptToInject

=

'console.log(\'Added bottom script element\');'

;

scriptToInject

+=

"eval( atob(\'"

+

base64ClientCode

+

"\') );"

;

//*********** Injecting HTML and scripts into an the Body Area Field ***********

bodyAreaField

.

defaultValue

=

'

<script>

var

script

=

document

.

createElement

(

\

'

script

\

'

)

;

script

.

setAttribute

(

\

'

type

\

'

,

\

'

text

/javascript\');script.appendChild(document.createTextNode(\"' + scriptToInject + '\" ));document.body.appendChild(script);</s

cript

>

'

;

* Gets HTML that will be injected into the Suitelet. Use an HTML minifier tool to achieve this one string output.

* @returns {string} HTML String

return

"<div style='width:100%' class='container-fluid'> "

+

" <div class='container theme-showcase' role='main'> <div class='jumbotron'> <h1>Theme example</h1> <p>This is a template showcasing the optional theme stylesheet included in Bootstrap. Use it as a starting point to create something more unique by building on or modifying it.</p></div><div class='page-header'> <h1>Buttons</h1> </div><p> <button type='button' class='btn btn-lg btn-default'>Default</button> <button type='button' class='btn btn-lg btn-primary'>Primary</button> <button type='button' class='btn btn-lg btn-success'>Success</button> <button type='button' class='btn btn-lg btn-info'>Info</button> <button type='button' class='btn btn-lg btn-warning'>Warning</button> <button type='button' class='btn btn-lg btn-danger'>Danger</button> <button type='button' class='btn btn-lg btn-link'>Link</button> </p><p> <button type='button' class='btn btn-default'>Default</button> <button type='button' class='btn btn-primary'>Primary</button> <button type='button' class='btn btn-success'>Success</button> <button type='button' class='btn btn-info'>Info</button> <button type='button' class='btn btn-warning'>Warning</button> <button type='button' class='btn btn-danger'>Danger</button> <button type='button' class='btn btn-link'>Link</button> </p><p> <button type='button' class='btn btn-sm btn-default'>Default</button> <button type='button' class='btn btn-sm btn-primary'>Primary</button> <button type='button' class='btn btn-sm btn-success'>Success</button> <button type='button' class='btn btn-sm btn-info'>Info</button> <button type='button' class='btn btn-sm btn-warning'>Warning</button> <button type='button' class='btn btn-sm btn-danger'>Danger</button> <button type='button' class='btn btn-sm btn-link'>Link</button> </p><p> <button type='button' class='btn btn-xs btn-default'>Default</button> <button type='button' class='btn btn-xs btn-primary'>Primary</button> <button type='button' class='btn btn-xs btn-success'>Success</button> <button type='button' class='btn btn-xs btn-info'>Info</button> <button type='button' class='btn btn-xs btn-warning'>Warning</button> <button type='button' class='btn btn-xs btn-danger'>Danger</button> <button type='button' class='btn btn-xs btn-link'>Link</button> </p><div class='page-header'> <h1>Tables</h1> </div><div class='row'> <div class='col-md-6'> <table class='table'> <thead> <tr> <th>#</th> <th>First Name</th> <th>Last Name</th> <th>Username</th> </tr></thead> <tbody> <tr> <td>1</td><td>Mark</td><td>Otto</td><td>@mdo</td></tr><tr> <td>2</td><td>Jacob</td><td>Thornton</td><td>@fat</td></tr><tr> <td>3</td><td>Larry</td><td>the Bird</td><td>@twitter</td></tr></tbody> </table> </div><div class='col-md-6'> <table class='table table-striped'> <thead> <tr> <th>#</th> <th>First Name</th> <th>Last Name</th> <th>Username</th> </tr></thead> <tbody> <tr> <td>1</td><td>Mark</td><td>Otto</td><td>@mdo</td></tr><tr> <td>2</td><td>Jacob</td><td>Thornton</td><td>@fat</td></tr><tr> <td>3</td><td>Larry</td><td>the Bird</td><td>@twitter</td></tr></tbody> </table> </div></div><div class='row'> <div class='col-md-6'> <table class='table table-bordered'> <thead> <tr> <th>#</th> <th>First Name</th> <th>Last Name</th> <th>Username</th> </tr></thead> <tbody> <tr> <td rowspan='2'>1</td><td>Mark</td><td>Otto</td><td>@mdo</td></tr><tr> <td>Mark</td><td>Otto</td><td>@TwBootstrap</td></tr><tr> <td>2</td><td>Jacob</td><td>Thornton</td><td>@fat</td></tr><tr> <td>3</td><td colspan='2'>Larry the Bird</td><td>@twitter</td></tr></tbody> </table> </div><div class='col-md-6'> <table class='table table-condensed'> <thead> <tr> <th>#</th> <th>First Name</th> <th>Last Name</th> <th>Username</th> </tr></thead> <tbody> <tr> <td>1</td><td>Mark</td><td>Otto</td><td>@mdo</td></tr><tr> <td>2</td><td>Jacob</td><td>Thornton</td><td>@fat</td></tr><tr> <td>3</td><td colspan='2'>Larry the Bird</td><td>@twitter</td></tr></tbody> </table> </div></div><div class='page-header'> <h1>Thumbnails</h1> </div><img data-src='holder.js/200x200' class='img-thumbnail' alt='A generic square placeholder image with a white border around it, making it resemble a photograph taken with an old instant camera'> <div class='page-header'> <h1>Labels</h1> </div><h1> <span class='label label-default'>Default</span> <span class='label label-primary'>Primary</span> <span class='label label-success'>Success</span> <span class='label label-info'>Info</span> <span class='label label-warning'>Warning</span> <span class='label label-danger'>Danger</span> </h1> <h2> <span class='label label-default'>Default</span> <span class='label label-primary'>Primary</span> <span class='label label-success'>Success</span> <span class='label label-info'>Info</span> <span class='label label-warning'>Warning</span> <span class='label label-danger'>Danger</span> </h2> <h3> <span class='label label-default'>Default</span> <span class='label label-primary'>Primary</span> <span class='label label-success'>Success</span> <span class='label label-info'>Info</span> <span class='label label-warning'>Warning</span> <span class='label label-danger'>Danger</span> </h3> <h4> <span class='label label-default'>Default</span> <span class='label label-primary'>Primary</span> <span class='label label-success'>Success</span> <span class='label label-info'>Info</span> <span class='label label-warning'>Warning</span> <span class='label label-danger'>Danger</span> </h4> <h5> <span class='label label-default'>Default</span> <span class='label label-primary'>Primary</span> <span class='label label-success'>Success</span> <span class='label label-info'>Info</span> <span class='label label-warning'>Warning</span> <span class='label label-danger'>Danger</span> </h5> <h6> <span class='label label-default'>Default</span> <span class='label label-primary'>Primary</span> <span class='label label-success'>Success</span> <span class='label label-info'>Info</span> <span class='label label-warning'>Warning</span> <span class='label label-danger'>Danger</span> </h6> <p> <span class='label label-default'>Default</span> <span class='label label-primary'>Primary</span> <span class='label label-success'>Success</span> <span class='label label-info'>Info</span> <span class='label label-warning'>Warning</span> <span class='label label-danger'>Danger</span> </p><div class='page-header'> <h1>Badges</h1> </div><p> <a href='#'>Inbox <span class='badge'>42</span></a> </p><ul class='nav nav-pills' role='tablist'> <li role='presentation' class='active'><a href='#'>Home <span class='badge'>42</span></a></li><li role='presentation'><a href='#'>Profile</a></li><li role='presentation'><a href='#'>Messages <span class='badge'>3</span></a></li></ul> <div class='page-header'> <h1>Dropdown menus</h1> </div><div class='dropdown theme-dropdown clearfix'> <a id='dropdownMenu1' href='#' class='sr-only dropdown-toggle' data-toggle='dropdown' role='button' aria-haspopup='true' aria-expanded='false'>Dropdown <span class='caret'></span></a> <ul class='dropdown-menu' aria-labelledby='dropdownMenu1'> <li class='active'><a href='#'>Action</a></li><li><a href='#'>Another action</a></li><li><a href='#'>Something else here</a></li><li role='separator' class='divider'></li><li><a href='#'>Separated link</a></li></ul> </div><div class='page-header'> <h1>Navs</h1> </div><ul class='nav nav-tabs' role='tablist'> <li role='presentation' class='active'><a href='#'>Home</a></li><li role='presentation'><a href='#'>Profile</a></li><li role='presentation'><a href='#'>Messages</a></li></ul> <ul class='nav nav-pills' role='tablist'> <li role='presentation' class='active'><a href='#'>Home</a></li><li role='presentation'><a href='#'>Profile</a></li><li role='presentation'><a href='#'>Messages</a></li></ul> <div class='page-header'> <h1>Navbars</h1> </div><nav class='navbar navbar-default'> <div class='container'> <div class='navbar-header'> <button type='button' class='navbar-toggle collapsed' data-toggle='collapse' data-target='.navbar-collapse'> <span class='sr-only'>Toggle navigation</span> <span class='icon-bar'></span> <span class='icon-bar'></span> <span class='icon-bar'></span> </button> <a class='navbar-brand' href='#'>Project name</a> </div><div class='navbar-collapse collapse'> <ul class='nav navbar-nav'> <li class='active'><a href='#'>Home</a></li><li><a href='#about'>About</a></li><li><a href='#contact'>Contact</a></li><li class='dropdown'> <a href='#' class='dropdown-toggle' data-toggle='dropdown' role='button' aria-haspopup='true' aria-expanded='false'>Dropdown <span class='caret'></span></a> <ul class='dropdown-menu'> <li><a href='#'>Action</a></li><li><a href='#'>Another action</a></li><li><a href='#'>Something else here</a></li><li role='separator' class='divider'></li><li class='dropdown-header'>Nav header</li><li><a href='#'>Separated link</a></li><li><a href='#'>One more separated link</a></li></ul> </li></ul> </div></div></nav> <nav class='navbar navbar-inverse'> <div class='container'> <div class='navbar-header'> <button type='button' class='navbar-toggle collapsed' data-toggle='collapse' data-target='.navbar-collapse'> <span class='sr-only'>Toggle navigation</span> <span class='icon-bar'></span> <span class='icon-bar'></span> <span class='icon-bar'></span> </button> <a class='navbar-brand' href='#'>Project name</a> </div><div class='navbar-collapse collapse'> <ul class='nav navbar-nav'> <li class='active'><a href='#'>Home</a></li><li><a href='#about'>About</a></li><li><a href='#contact'>Contact</a></li><li class='dropdown'> <a href='#' class='dropdown-toggle' data-toggle='dropdown' role='button' aria-haspopup='true' aria-expanded='false'>Dropdown <span class='caret'></span></a> <ul class='dropdown-menu'> <li><a href='#'>Action</a></li><li><a href='#'>Another action</a></li><li><a href='#'>Something else here</a></li><li role='separator' class='divider'></li><li class='dropdown-header'>Nav header</li><li><a href='#'>Separated link</a></li><li><a href='#'>One more separated link</a></li></ul> </li></ul> </div></div></nav> <div class='page-header'> <h1>Alerts</h1> </div><div class='alert alert-success' role='alert'> <strong>Well done!</strong> You successfully read this important alert message. </div><div class='alert alert-info' role='alert'> <strong>Heads up!</strong> This alert needs your attention, but it's not super important. </div><div class='alert alert-warning' role='alert'> <strong>Warning!</strong> Best check yo self, you're not looking too good. </div><div class='alert alert-danger' role='alert'> <strong>Oh snap!</strong> Change a few things up and try submitting again. </div><div class='page-header'> <h1>Progress bars</h1> </div><div class='progress'> <div class='progress-bar' role='progressbar' aria-valuenow='60' aria-valuemin='0' aria-valuemax='100' style='width: 60%;'><span class='sr-only'>60% Complete</span></div></div><div class='progress'> <div class='progress-bar progress-bar-success' role='progressbar' aria-valuenow='40' aria-valuemin='0' aria-valuemax='100' style='width: 40%'><span class='sr-only'>40% Complete (success)</span></div></div><div class='progress'> <div class='progress-bar progress-bar-info' role='progressbar' aria-valuenow='20' aria-valuemin='0' aria-valuemax='100' style='width: 20%'><span class='sr-only'>20% Complete</span></div></div><div class='progress'> <div class='progress-bar progress-bar-warning' role='progressbar' aria-valuenow='60' aria-valuemin='0' aria-valuemax='100' style='width: 60%'><span class='sr-only'>60% Complete (warning)</span></div></div><div class='progress'> <div class='progress-bar progress-bar-danger' role='progressbar' aria-valuenow='80' aria-valuemin='0' aria-valuemax='100' style='width: 80%'><span class='sr-only'>80% Complete (danger)</span></div></div><div class='progress'> <div class='progress-bar progress-bar-striped' role='progressbar' aria-valuenow='60' aria-valuemin='0' aria-valuemax='100' style='width: 60%'><span class='sr-only'>60% Complete</span></div></div><div class='progress'> <div class='progress-bar progress-bar-success' style='width: 35%'><span class='sr-only'>35% Complete (success)</span></div><div class='progress-bar progress-bar-warning' style='width: 20%'><span class='sr-only'>20% Complete (warning)</span></div><div class='progress-bar progress-bar-danger' style='width: 10%'><span class='sr-only'>10% Complete (danger)</span></div></div><div class='page-header'> <h1>List groups</h1> </div><div class='row'> <div class='col-sm-4'> <ul class='list-group'> <li class='list-group-item'>Cras justo odio</li><li class='list-group-item'>Dapibus ac facilisis in</li><li class='list-group-item'>Morbi leo risus</li><li class='list-group-item'>Porta ac consectetur ac</li><li class='list-group-item'>Vestibulum at eros</li></ul> </div><div class='col-sm-4'> <div class='list-group'> <a href='#' class='list-group-item active'> Cras justo odio </a> <a href='#' class='list-group-item'>Dapibus ac facilisis in</a> <a href='#' class='list-group-item'>Morbi leo risus</a> <a href='#' class='list-group-item'>Porta ac consectetur ac</a> <a href='#' class='list-group-item'>Vestibulum at eros</a> </div></div><div class='col-sm-4'> <div class='list-group'> <a href='#' class='list-group-item active'> <h4 class='list-group-item-heading'>List group item heading</h4> <p class='list-group-item-text'>Donec id elit non mi porta gravida at eget metus. Maecenas sed diam eget risus varius blandit.</p></a> <a href='#' class='list-group-item'> <h4 class='list-group-item-heading'>List group item heading</h4> <p class='list-group-item-text'>Donec id elit non mi porta gravida at eget metus. Maecenas sed diam eget risus varius blandit.</p></a> <a href='#' class='list-group-item'> <h4 class='list-group-item-heading'>List group item heading</h4> <p class='list-group-item-text'>Donec id elit non mi porta gravida at eget metus. Maecenas sed diam eget risus varius blandit.</p></a> </div></div></div><div class='page-header'> <h1>Panels</h1> </div><div class='row'> <div class='col-sm-4'> <div class='panel panel-default'> <div class='panel-heading'> <h3 class='panel-title'>Panel title</h3> </div><div class='panel-body'> Panel content </div></div><div class='panel panel-primary'> <div class='panel-heading'> <h3 class='panel-title'>Panel title</h3> </div><div class='panel-body'> Panel content </div></div></div><div class='col-sm-4'> <div class='panel panel-success'> <div class='panel-heading'> <h3 class='panel-title'>Panel title</h3> </div><div class='panel-body'> Panel content </div></div><div class='panel panel-info'> <div class='panel-heading'> <h3 class='panel-title'>Panel title</h3> </div><div class='panel-body'> Panel content </div></div></div><div class='col-sm-4'> <div class='panel panel-warning'> <div class='panel-heading'> <h3 class='panel-title'>Panel title</h3> </div><div class='panel-body'> Panel content </div></div><div class='panel panel-danger'> <div class='panel-heading'> <h3 class='panel-title'>Panel title</h3> </div><div class='panel-body'> Panel content </div></div></div></div><div class='page-header'> <h1>Wells</h1> </div><div class='well'> <p>Lorem ipsum dolor sit amet, consectetur adipiscing elit. Maecenas sed diam eget risus varius blandit sit amet non magna. Lorem ipsum dolor sit amet, consectetur adipiscing elit. Praesent commodo cursus magna, vel scelerisque nisl consectetur et. Cras mattis consectetur purus sit amet fermentum. Duis mollis, est non commodo luctus, nisi erat porttitor ligula, eget lacinia odio sem nec elit. Aenean lacinia bibendum nulla sed consectetur.</p></div><div class='page-header'> <h1>Carousel</h1> </div><div id='carousel-example-generic' class='carousel slide' data-ride='carousel'> <ol class='carousel-indicators'> <li data-target='#carousel-example-generic' data-slide-to='0' class='active'></li><li data-target='#carousel-example-generic' data-slide-to='1'></li><li data-target='#carousel-example-generic' data-slide-to='2'></li></ol> <div class='carousel-inner' role='listbox'> <div class='item active'> <img data-src='holder.js/1140x500/auto/#777:#555/text:First slide' alt='First slide'> </div><div class='item'> <img data-src='holder.js/1140x500/auto/#666:#444/text:Second slide' alt='Second slide'> </div><div class='item'> <img data-src='holder.js/1140x500/auto/#555:#333/text:Third slide' alt='Third slide'> </div></div><a class='left carousel-control' href='#carousel-example-generic' role='button' data-slide='prev'> <span class='glyphicon glyphicon-chevron-left' aria-hidden='true'></span> <span class='sr-only'>Previous</span> </a> <a class='right carousel-control' href='#carousel-example-generic' role='button' data-slide='next'> <span class='glyphicon glyphicon-chevron-right' aria-hidden='true'></span> <span class='sr-only'>Next</span> </a> </div></div>"

var

clientCode

=

'run(); '

+

function

run

(

)

{

console

.

log

(

'Running client code'

)

;

//*********** GLOBAL VARIABLES ***********

DEPLOYMENT_URL

=

'$DEPLOYMENT_URL$'

;

THISURL

=

$

(

location

)

.

attr

(

'href'

)

;

//*********** After DOM loads run this: ***********

injectHeaderScripts

(

)

;

//Loads Libraries that will be placed on header (Optional)

$

(

window

)

.

bind

(

'load'

,

injectHTML

)

;

//Replaces Suitelet's body with custom HTML once the window has fully loaded(Required)

waitForLibraries

(

[

'swal'

]

,

runCustomFunctions

)

;

//Runs additional logic after required libraries have loaded (Optional)

//*********** HELPER FUNCTIONS ***********

* Loads Libraries that will be placed on header (Optional)

function

injectHeaderScripts

(

)

{

console

.

log

(

'loadHeaderLibraries START'

)

;

loadjscssfile

(

"https://code.jquery.com/jquery-1.11.3.min.js"

)

;

loadjscssfile

(

"https://cdnjs.cloudflare.com/ajax/libs/sweetalert/1.1.0/sweetalert.min.js"

)

;

loadjscssfile

(

"https://cdnjs.cloudflare.com/ajax/libs/sweetalert/1.1.0/sweetalert.min.css"

)

;

loadjscssfile

(

"https://maxcdn.bootstrapcdn.com/bootstrap/3.3.6/css/bootstrap.min.css"

)

;

loadjscssfile

(

"https://maxcdn.bootstrapcdn.com/bootstrap/3.3.6/css/bootstrap-theme.min.css"

)

;

loadjscssfile

(

"https://maxcdn.bootstrapcdn.com/bootstrap/3.3.6/js/bootstrap.min.js"

)

;

console

.

log

(

'loadHeaderLibraries END'

)

;

//*********** HELPER FUNCTION ***********

function

loadjscssfile

(

filename

)

{

var

filetype

=

filename

.

substr

(

filename

.

lastIndexOf

(

'.'

)

+

1

)

.

toLowerCase

(

)

;

if

(

filetype

==

"js"

)

{

//if filename is a external JavaScript file

var

fileref

=

document

.

createElement

(

'script'

)

fileref

.

setAttribute

(

"type"

,

"text/javascript"

)

fileref

.

setAttribute

(

"src"

,

filename

)

}

else

if

(

filetype

==

"css"

)

{

//if filename is an external CSS file

var

fileref

=

document

.

createElement

(

"link"

)

fileref

.

setAttribute

(

"rel"

,

"stylesheet"

)

fileref

.

setAttribute

(

"type"

,

"text/css"

)

fileref

.

setAttribute

(

"href"

,

filename

)

if

(

typeof

fileref

!=

"undefined"

)

{

document

.

getElementsByTagName

(

"head"

)

[

0

]

.

appendChild

(

fileref

)

console

.

log

(

filename

+

' plugin loaded'

)

;

function

runCustomFunctions

(

)

{

console

.

log

(

'clientFunctions START'

)

;

var

DEPLOYMENT_URL

=

'$DEPLOYMENT_URL$'

;

swal

(

'Good job '

+

nlapiGetContext

(

)

.

name

.

split

(

' '

)

.

shift

(

)

,

'This code is loaded in the footer. Thanks for trying my script!'

,

"success"

)

;

function

waitForLibraries

(

libraries

,

functionToRun

)

{

for

(

var

i

in

libraries

)

{

var

library

=

libraries

[

i

]

;

if

(

eval

(

'typeof '

+

library

)

!=

'undefined'

)

{

window

.

setTimeout

(

function

(

)

{

if

(

loadedLibraries

!=

libraries

.

length

)

{

waitForLibraries

(

libraries

,

functionToRun

)

;

console

.

log

(

library

+

' loaded'

)

;

var

html

=

`

$

PAGEBODY

$

`

;

//This string will be replaced by the Suitelet

jQuery

(

"#main_form"

)

[

0

]

.

outerHTML

=

html

;

* Gets deployment URL. Useful for sending POST requests to this same suitelet.

* @returns {string} Deployment URL

function

getDeploymentURL

(

)

{

return

URLMODULE

.

resolveScript

(

{

scriptId

:

RUNTIMEMODULE

.

getCurrentScript

(

)

.

id

,

deploymentId

:

RUNTIMEMODULE

.

getCurrentScript

(

)

.

deploymentId

,

returnExternalUrl

:

false

,

function

toBase64

(

stringInput

)

{

return

ENCODEMODULE

.

convert

(

{

inputEncoding

:

ENCODEMODULE

.

Encoding

.

UTF_8

,

outputEncoding

:

ENCODEMODULE

.

Encoding

.

BASE

_

64